Flying Emblem: Everyone Dies in this One is a direct sequel to Flying Emblem: Universal Game of Yahtzee and is the final Flying Emblem title, released in 1989.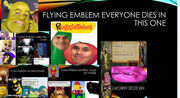 Gameplay
[
]
The game is about you playing individually as each character and killing them in any order you would like. To kill them, you must move the joystick to put their heads in cat doors and then chop off their head. You can play as either Marth, Roy, Eirika or Ike.
Plot
[
]
After being forced to play Yahtzee, everyone wishes to kill them selves so they stick their head s through cat doors. Meanwhile, Tiki is killed because somebody thought her name meant tiki torch trump stuff. After that, a Medeus finally takes over Good Gaya and turns everyone evil.
Reception
[
]
Most called it "A beautiful tragic story." IGN gave it a 33311/10.