Flying Emblem: Sacred Stoners is a 1954 Neenteendo game. It stars Eirika.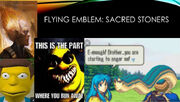 Gameplay
[
]
Wait for 6 hours. That's it.
Plot
[
]
Eirika was called a "sacred stoner," by Medeus. This angered everyone so much that Eirika went with some knights and with Tiki to go to Bad Gaya and stop Medeus. The knights die quickly from licking the railing in a hospital. On the journey, Yugdab claims to be good now which wasn't correct. After defeating Medeus, Eirika was pushed into a portal and betrayed by Yugdab. Tiki quickly rad home, hey does this plot sound familiar?
Reception
[
]
Most called it "A formula that will never die." IGN gave it a 222234/10.