Flying Emblem: Universal Game of Yahtzee is a 1975 Neenteendo game.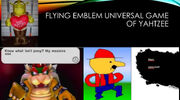 Marth, Ike, Roy And Eirika are all shouting "I HATE THAT GAAAAAAAAAAAAAAAAAAME!!" You must rapidly press A for about six years.
It is revealed that the portal Marth, Ike, Roy And Eirika went into led to a gigantic Yahtzee game. Since that game sucks, everyone yells "I HATE THAT GAME!!!!!"
Reception
Edit
Most called it "A deeply satisfying answer to the age old question of where does the portal lead." IGN gave it a 222110/10.
Community content is available under
CC-BY-SA
unless otherwise noted.