The Flying Emblem is an artifact (not to be confused with the series. And the game itself. Things are confusing) in the Flying Emblem series. It is always in the top left corner of the screen flying around taunting you. It is said that you will have ultimate power if you touch it, but such a thing is impossible. It's always there no matter what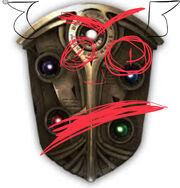 111991817171788881 years ago, Shaggy Jr. created an artifact to annoy people because he wanted to create negative energy to resurrect his pet snail. He ended up doing it in the last game, but the snail immideately died again
Note: all of these quotes are shouted at you.
"HA!! YOU CANT GET ME ASSHOLE!!!"
"I CAN SEE YOU CHANGING!!!"
"YOU ARE PATHETIC AND WORTHLESS!!!!"
"IF YOU CANT EVEN JUMP AND TOUCH ME HOW ARE YOU EVER GOING TO SURVIVE? OH YEAH ITS BECAUSE PEOPLE ARE ALWAYS GIVING YOU FREE HANDOUTS AND YOU DONT HAVE TO WORK FOR ANYTHING"
"LANGFISHER IS BETTER THEN FLYING EMBLEM" (Langfisher is a crappy flying emblem knockoff that keeps sponsoring YouTube videos so everyone talks good about it)
It is indeed possible to get the Flying Emblem by hacking the game, but doing so can crash your game while showing strobe lights and is punishable under Neenteendo law by up to 19 years in federal Neenteendo prison. (And those guys at the Neenteendo police will break your thumbs.)
Community content is available under
CC-BY-SA
unless otherwise noted.